Chichen Itza Closed after Delta Hurricane – During the last days, the Yucatan Peninsula has been affected by meteorological phenomena; Tropical Storm Gamma and Delta Hurricane.
Chichen Itza reopening was on September 22th, unfortunately, weeks later a tropical storm arrived. Gamma went through the Yucatan Peninsula last weekend with heavy rains and strong winds that caused damages at Chichen Itza. Due to this situation, the archeological site decided to close to restore the area. Chichen Itza was going to open on Thursday 09, but then a Hurricane alert came.
"Due to the effects on access roads and trails caused by tropical storm Gamma, the archaeological sites of Chichen Itza and Ek Balam, in Yucatán, and Cobá, in Quintana Roo, will remain closed to the public until further notice." INAH on Twitter.
Just a couple days later a Hurricane was going to hit the Yucatan Peninsula. The meteorological phenomenon arrived at Yucatan on October 7th during the morning. Chichen Itza was just recovering from the tropical storm when a Category 1 Hurricane struck one of the 7 Wonders of the World.
Damge at Chichen Itza after Delta Hurricane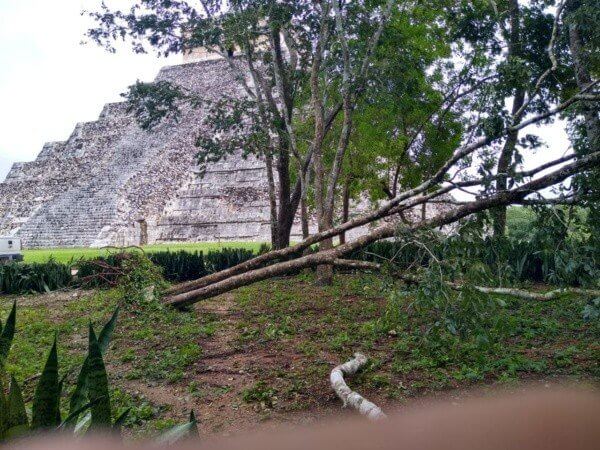 Falling trees and large branches, puddles, and muddy paths are the main damages, which can represent a risk for visitors. In the case of cenotes, the waters have exceeded their normal levels and the roads are very slippery. That is why Chichen Itza closed after Delta hurricane, fortunately, no structural damage was reported.
At the moment the staff is already carrying out cleaning and restoration activities in the archaeological zone. In this way, we will be able to offer the best Chichen Itza Tour soon.
We'll announce the reopening of Chichen Itza when we get news, and hopefully, it will be very soon.
Thank you for reading!