Get your Chichen Itza Tickets here!
We know you might want to get your Entrance fee to Chichen Itza in advance. Enjoy a full day in one of the 7 wonders of the world exploring the impressive Mayan city of Chichen Itza. Find great vestiges and fantastic ruins such as the iconic Chichen Itza Pyramid, very well known as the Kukulkan Pyramid, The Mayan Observatory, The Great Ball court and more.
On your Chichen Itza trip don't forget to visit a cenote after a long walk through the pyramids, cool off the heat with a fantastic swim in those clear waters and of course a visit to the magic town of Valladolid is a must. Get available Chichen Itza tickets here!
Chichen Itza Entrance Fee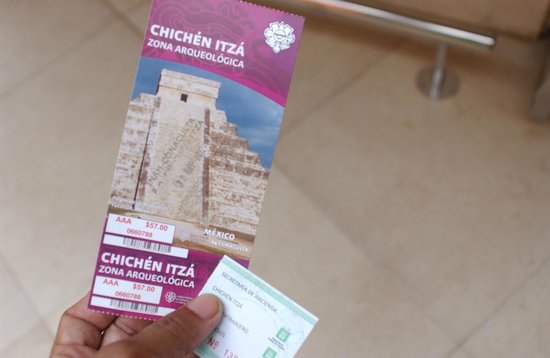 Due to the sanitary protocols Chichen will remain closed on March 20, 21, and 22 to protect visitor's health and avoid the spread of the virus.
Chichen Itza is such a great experience in the Yucatan Peninsula, as soon as you arrive at the sacred site you'll see the most amazing Mayan ruins in Mexico and Latin America. Don't forget to take a guided tour on the archaeological site to learn everything about Mayan culture and all the history impregnated on each corner at Chichen Itza.