Kukulkan nights at Chichen Itza are back, as you know the pandemic situation has affected many tourist sites including Chichen Itza and its glorious Kukulkan Nights.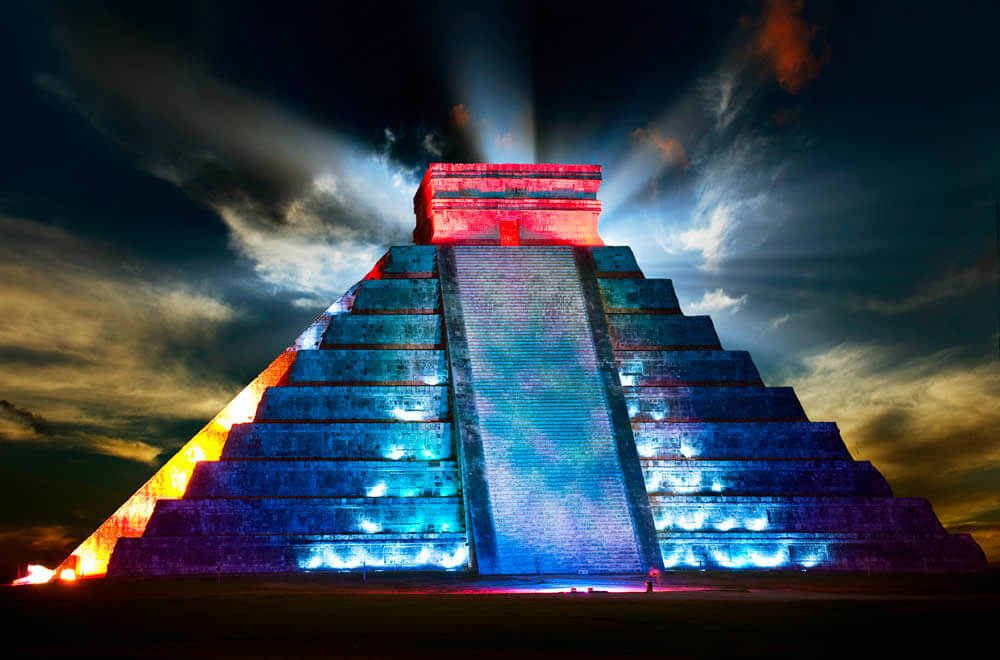 If you didn't know Chichen Itza at night becomes a magical experience with a light and sound show. The castle or El Castillo Pyramid is the main character in this scene. The Kukulkan pyramid lights up with colorful images representing the Mayan culture. After a magnificent walk tour in the Chichen Itza Mayan ruins, you'll be able to enjoy 25 minutes of this fantastic show. Live this magic experience and enjoy a mystical night in Chichen Itza.
Kukulkan Nights are back
Sounds great right? Well, this spectacle has been closed for 10 months since the pandemic begins in March 2020. But, now cultural authorities decided to reopen the event.
Kukulkan nights back last February 2nd, due to the Covid-19 the spectacle has the same protocols as Chichen Itza. One of the protection measures is that only 30% of the capacity will be allowed, which means that up to 300 people could enter.
The show starts at 7:00 pm whoever wants to assist can buy the tickets at Chichen Itza's entrance at 3:00 pm. Or you can call 9991-26-99-25, or send a message (conventional or WhatsApp) to make a reservation. We recommend you buy your tickets before the show due to the limited spaces.
Sanitary measures
Cultural authorities will be very strict in this regard. We all know the main sanitary measures, but it is not enough to repeat them. The correct use of the mask that covers the mouth and nose is mandatory. As well as the application of antibacterial gel, the measurement of temperature with a thermal camera, shoes disinfection in special mats, and as already indicated, allow only 30% of the capacity, among the most important.
Thanks for reading!
Don't forget to get your Chichen Itza Tour!